COMMERCIAL WATERPROOF FLOORING FOR YOUR BUSINESS
At The Flooring Authority, we carry a vast collection of waterproof flooring that is ideal for residential or commercial projects. Since waterproof flooring is available in a wide choice of styles, colors and grain variations, it is an incredibly versatile flooring option for residential or commercial properties. If you're not sure which waterproof flooring would be best for your commercial or residential space, then head over to our Fort Walton Beach, FL showroom. Our savvy flooring pros will answer all of your flooring questions, and help you figure out which waterproof flooring is optimal for your residential or commercial projects.
The Advantages Of Waterproof Flooring
Waterproof flooring is available in waterproof core and wood plastic composite (WPC), in addition to other options. This technologically engineered flooring offers businesses and companies a strong, long-lasting, and visually appealing flooring.
What Are Some Benefits Of Using Waterproof Flooring?
Maintain a Modern Look

Waterproof flooring provides companies with the possibility of perpetually maintaining a modern look. By re-sanding and refinishing their selected waterproof flooring, commercial properties can easily update their style and decor. Companies can renew their look or change their business colors whenever they wish.
Easy Flooring Care
It's no surprise that specialty engineered waterproof flooring is easy to maintain, making it an excellent option for office buildings and commercial properties. The lamination on waterproof flooring planks protects against streaks, dust, dirt, scratches, and even minor water damage or chemical spills, all without affecting its natural beauty.
Ideal For Businesses
Waterproof flooring boards are a practical alternative for bustling businesses or large companies, since they do not require much upkeep and are easily refinished.
The Flooring Authority showroom experts advise companies to have their waterproof flooring professionally installed, as it is a specially engineered flooring. If you are a company or business owner looking for waterproof flooring answers, call us, and we'll gladly help! Or, come on down to our showroom where we can answer all of your flooring questions.
At The Flooring Authority, we carry waterproof flooring from many manufacturers and are sure to help you find the perfect product. With hundreds and hundreds of top-grade waterproof flooring styles, colors, and widths available, we believe The Flooring Authority will have the ideal flooring for your commercial property. There's no need to look elsewhere! We guarantee exceptional customer service and competitive product pricing for your business waterproof flooring today
Design Advice Videos from Top Designer, Marc Thee
Want Trade Secrets? Click on any of Marc Thee's design advice videos below and learn from the expert. Marc Thee has been twice named by Architectural Digest as one of the "The Top 100 Designers in the World". He has also received the "Designer of Distinction Award" from the Design Center of the Americas.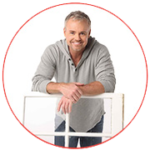 Marc thee Suggests these videos…
Modern Family Room Makeover
Decorate with Accessories