WHY OPT FOR CARPET FOR YOUR COMMERCIAL SPACE?
Carpet is regarded to be the preferred flooring choice for commercial building spaces. Its sophisticated appeal adds value and allure to offices, reception areas, hallways, conference rooms, and board rooms. Furthermore, it adds to the culture of a business and enhances the appearance of professional buildings. If you are considering repairing or updating your commercial space with carpet, then let the specialists at The Flooring Authority help you select the best choice for your commercial requirements.
Carpet Adds Beauty
Carpet flooring adds elegance and improves the appearance of any commercial setting. In a reception area, the first thing clients notice is the office décor. What better way to display a professional image than through the beauty of a uniquely designed carpet floor covering?
Carpet is Easy to Maintain

Nowadays, carpet care is incredibly simple and surprisingly painless. With pre-treated, stain resistant carpeting, your commercial business can maintain its beautiful carpet without the frequent need of professional cleaning services.
Carpet Reduces Noise

Carpet flooring reduces noise. Typically, companies have open floor concept office spaces where many individuals interact with each other. Add to that the sound of phones, conversations, and movement, and suddenly the office environment begins to be a noisy place. Carpet flooring offers the perfect solution to reducing loud sounds and chatter in the office, thus helping to increase workplace productivity.
Carpet is a Healthy Alternative
Unbeknownst to most people, carpet is an excellent air filter, collecting dust, air pollutants, allergens, and toxins, trapping them in its carpet fibers. By maintaining a regular carpet cleaning regimen, companies can keep their air cleaner and the staff healthier.
Carpet is Cost Effective

Companies can prolong the life cycle of their commercial carpeting with proper carpet cleaning.Maintain carpet upkeep by hiring experienced and professional commercial carpet cleaners. In doing so, you can rest assured that your commercial office carpet is being cleaned correctly with the proper system. Keep all of your carpeted business areas regularly cleaned, by adhering to a scheduled maintenance plan.
At The Flooring Authority, from carpets, hardwood, to waterproof flooring, we're the authorities on flooring! Our Fort Walton Beach, FL showroom services the Mary Esther, Destin, Crestview and Niceville regions. Do you have any commercial flooring questions? At The Flooring Authority, we look forward to talking to you and helping you make the right choices for your company and business renovations. Our flooring experts will answer any of your commercial carpet flooring questions.
Design Advice Videos from Top Designer, Marc Thee
Want Trade Secrets? Click on any of Marc Thee's design advice videos below and learn from the expert. Marc Thee has been twice named by Architectural Digest as one of the "The Top 100 Designers in the World". He has also received the "Designer of Distinction Award" from the Design Center of the Americas.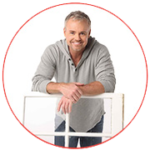 Marc thee Suggests these videos…
Modern Living Room Makeover
Marc Thee Creates a Restful Bedroom