VINYL INFO IN FORT WALTON BEACH
The Flooring Authority offers a variety of residential vinyl flooring to suit any budget or project.
The Flooring Facts
The Flooring Authority has a wide variety of styles and colors available for your convenience.
Your vinyl flooring project can be completed quickly and inexpensively.
We also stock the adhesives and tools necessary to install sheet vinyl flooring.
Design Advice Videos from Top Designer, Marc Thee
Want Trade Secrets? Click on any of Marc Thee's design advice videos below and learn from the expert. Marc Thee has been twice named by Architectural Digest as one of the "The Top 100 Designers in the World". He has also received the "Designer of Distinction Award" from the Design Center of the Americas.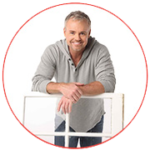 Modern Family Room Makeover
Decorate with Accessories