HARDWOOD IN FORT WALTON BEACH
The Flooring Authority offers a wide array of hardwood flooring in an assortment of colors and styles.
The Flooring Authority is your one-stop shop for hardwood flooring, trims, supplies and expert installation.
The Flooring Facts
Usage of hardwood as flooring material increases the value of a home. Homes with hardwood flooring in living rooms, dens, hallways and stairs where hardwood suits best are deemed to be of great worth.
Hardwood floors offer comfort that perhaps no other flooring can give and they offer good value for money. Though the initial investment in case of hardwood flooring may be higher in comparison to carpeting or vinyl it requires far less frequent replacement and has resale value. Thus the hardwood floors retain their value for longer.
Design Advice Videos from Top Designer, Marc Thee
Want Trade Secrets? Click on any of Marc Thee's design advice videos below and learn from the expert. Marc Thee has been twice named by Architectural Digest as one of the "The Top 100 Designers in the World". He has also received the "Designer of Distinction Award" from the Design Center of the Americas.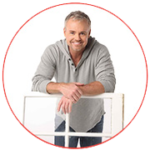 Marc thee Suggests these videos…
Molding Design for a Bed Wall