PORCELAIN TILE INFO IN FORT WALTON BEACH
The Flooring Authority offers a wide array of ceramic and porcelain tile in an assortment of colors and sizes. All prices are PER SQUARE FOOT, regardless of tile size
The Flooring Authority carries a wide variety of ceramic and porcelain floor and wall tiles.
Whether your project is a tiny bathroom, or a ballroom floor, we can supply the tile and supplies that will fit your budget and your decor.
Ceramic tiles in a wide range of looks, colors and sizes.
Properly installed ceramic tile will outperform and outlast nearly any other floor covering product created for the same application.
Glazed ceramic or porcelain tile makes for very easy maintenance. They can be cleaned easily with damp mop or sponge. For Best results use a pH neutral cleaner that leaves no residue like Bona's Tile & Laminate Floor Cleaner or Aqua Mix's Concentrated Tile Cleaner.
Most glazed ceramic tile has a dense body that permits little or no accumulation of moisture. This means spills from common liquids found in a kitchen are not a big concern.
Porcelain tile is available in a variety of colors and styles and sizes.
Whether you are installing the tile yourself, or have a professional installer, the Flooring Authority is your source for tile, grout, setting materials and supplies necessary for a premium-looking installation.
Design Advice Videos from Top Designer, Marc Thee
Want Trade Secrets? Click on any of Marc Thee's design advice videos below and learn from the expert. Marc Thee has been twice named by Architectural Digest as one of the "The Top 100 Designers in the World". He has also received the "Designer of Distinction Award" from the Design Center of the Americas.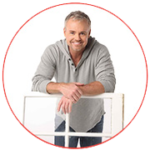 Combining Materials in the Bath